Koi with lilly pad and reeds Stained Glass Beveled Windows Panel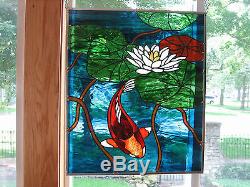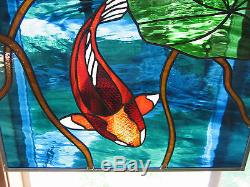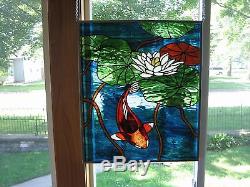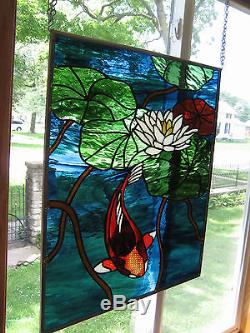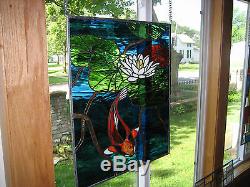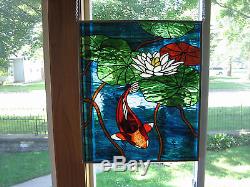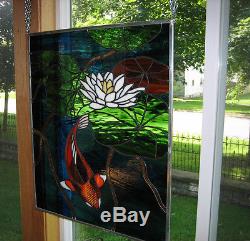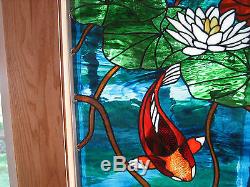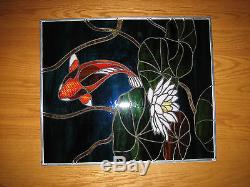 Custom Handmade in the USA Stained Glass Designs. We are professional artists that handcraft our panels in the USA and in our studio. Many of our panels are ORIGINALS we design in our studio. We select our glass by hand, directly from the manufactures to ensure good quality and a consistent grade.
The soldering is of professional quality. We take care to make sure your window is re-enforced properly to ensure a window that will last 100's of years with proper care. Our stained glass art pieces are of the highest quality and are clearly elegant. The craftsmanship is absolutely exceptional. We take pride in our artwork.
As they say A picture speaks a 1000 words! Koi with lily pad and reeds. Original by Stained Glass Heirlooms. About the Art Piece Photos rarely capture the true brilliance of the colors and textures of art glass. At Stained Glass Heirlooms we strive to get great photos, but we also hope you realize the art work will intensify and pop when viewing it in person.
The water movement around the koi, flowers, lily pads, scales, fins and colors used on the koi are all lifelike. The water swirls in and out the way the actual water would move if the fish was actually swimming in your pond. The water has waves to look like small ripples and the flower looks to have sun shining on various part of it.
The lily pads look very realistic and shine like there is a mist water on top of them to. The Koi fish has accurate colors for a Hikari-utsurimono, the scales and the fins have lines in them that make them look exactly as the fins and scales do on the fish. This piece of art work is full of details. Approximate size: 20 1/4" x 24 1/4".
Glass Grade: 1 - top of the line - NO seconds. Zinc framing that was custom made in our studio. Black patina with protective coating applied.
Window can be hung as shown. 2 foot of chain and "s" hooks included. If the window can be hung multi-directional we will drill all corners so you can change the look from time to time. The drilling can't be seen if used in a fixed window type of display.
It is the best method for hanging since we don't have to remove the hangers for you. Removing hangers will leave a messy looking zinc came frame. Nothing worse then purchasing something that has to be modified only to look horrible once done. PLEASE SEE OUR ABOUT "ABOUT ME" PAGE FOR SERVICES WE OFFER. Stained Glass Heirlooms 200 Sycamore St Tipton, IA 52772.
Each window or panel is handcrafted and crated once ordered and paid for. The glass is handmade and may vary in color, density etc.
We will make every effort to reproduce the same panel, but variations may occur that are beyond our control. Tracking numbers are sent the day of mailing. If less than the amount we would have chosen then nothing is due in return.
Absolutely NO seconds quality glass. Hand selected glass from the manufacturers. If your window has bevels they are top of the line bevels NO seconds. If your window has jewels they are usually antiques or are German made which means quality.
All art work is produced in the USA and is handmade. Rich black patina is applied to all leading and is unified in color. Oxidation retarder is applied to all leading. This procedure is waved when the client is going to insulate the window since no air will be allowed to get to the window once the process is done. Thick protective coating to provide clarity is applied to patina to help prevent oxidation and make the leading shine.
Instructions on how to care for your window. This is worth every dime you spend with us. We tell you how to manage your window over the years to keep it looking as good as the day it arrives. Instructions on how to remove your window from the crate. Custom wooden crate fully lined. Though you may not see the damage right away over time you will. We don't take chances since we stand behind our work. Customer Service that doesn't stop once you receive your window. If you have questions on how to install the window, hang the window etc. Please ask we will help you as best we can. The item "Koi with lilly pad and reeds Stained Glass Beveled Windows Panel" is in sale since Thursday, March 14, 2013. This item is in the category "Antiques\Architectural & Garden\Stained Glass Windows\1940-Now". The seller is "crystallclear1047" and is located in Tipton, Iowa. This item can be shipped to United States.
Type: Stained Glass Windows
Primary Material: Glass
Age: Post-1940
Original/Reproduction: Original
Approximate Size: 20 1/4" x 24 1/4"
Cert of Authen Filed: Yes
Custom Color Choices Available: Yes, Please email for quote
Custom Sizing Available: Yes, please email for quote
Hanging Direction: As shown
Method: Tiffany foil
Patina: Black
Pattern: Koi lily pads pond Japanesse
Possible ways to use: Sidelight Valance, Transom
Shipping and Insurance: FREE to Lower 48 States ONLY
Supplies included with item: 2 ft chain and "s" hooks

---