Antique Vintage Style 23 Round Stained Glass Window Hanging Panel Suncatcher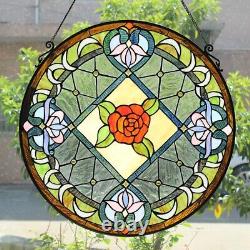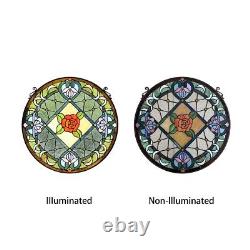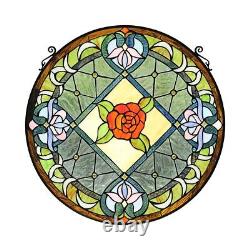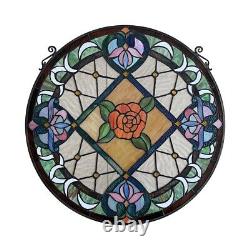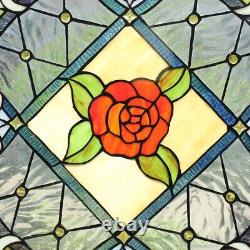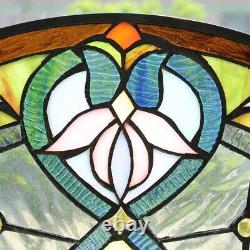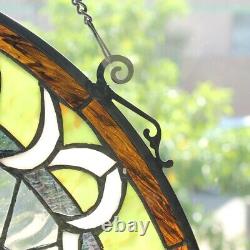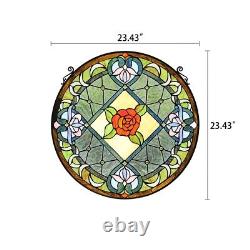 35.83 max hanging height with chain. Presenting a mesmerizing stained glass window panel meticulously handcrafted from pieces of hand cut stained art glass. Each individual piece of stained glass is meticulously lined with fine copper foil and skillfully soldered together at elevated temperatures. These captivating Tiffany-style stained glass suncatchers are crafted using the exact technique pioneered by the renowned artist Louis Comfort Tiffany in the early 1900s.
Every hand-cut piece of stained art glass is lovingly wrapped in delicate copper foil, and then, with extraordinary precision, soldered together at extremely high temperatures. The result is a collection of unique and stunning suncatchers that pay homage to the time-honored artistry of Tiffany's original creations. This stained glass window panel is a testament to the skill and dedication of the artisans who have faithfully upheld Tiffany's technique. Each intricate detail and carefully soldered joint speaks to the craftsmanship and artistry involved in its creation.
The play of light through the vibrant stained glass and the delicate sparkle of the glass beads bring an ethereal beauty to any space. Embrace the timeless elegance and enchantment of this Tiffany-style stained glass window panel, as it captures the essence of a bygone era while adding a touch of elegance to your surroundings. Each panel is a unique masterpiece, showcasing the intricate artistry and meticulous attention to detail that defines the enduring legacy of Louis Comfort Tiffany. We guarantee intact safe arrival.

---