Stained Glass Rosettes & Marquee Tiffany Style Window Panel ONE THIS PRICE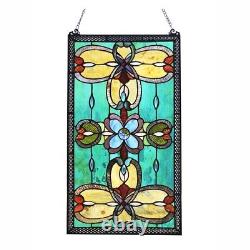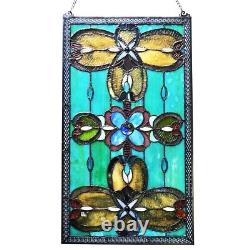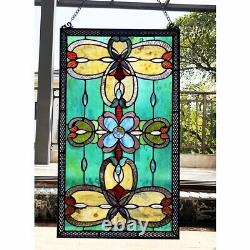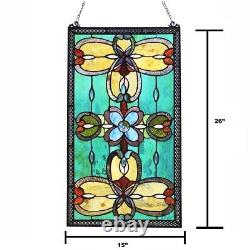 Handcrafted Tiffany Style Victorian Design Stained Cut Glass Window Panel. This panel is the perfect compliment to your Brandi Lamps or Ceiling Fan. This collection features delicate ribbons, Glass Rosettes and Marquee cabochons.
This piece is crafted with high end ripple glass. The panel, made of 206 pieces of glass, 32 cabochons, and 3 hand-poured glass rosettes, is framed with a basket weave filigree. When placed in a window these panels come to light! They can be hung on a wall as well. Use it to create privacy without blocking the natural light.
Each piece is copper wire wrapped by hand individually, then soldered together. The true Tiffany craftsmanship is reflected in this beautiful piece. This window panel has wonderful colors that would accent any decor.
The first photo is what the panel will look like with natural light passing through it. The second photo is of the panel when received out of the box. This window panel measures 15" wide x 26" tall. You will love this window!
All of my Stained Cut Glass Windows Come With Chains and Hooks For Easy Hanging.

---