Stained Glass Window Panel four seasons aspen forest beveled iridized green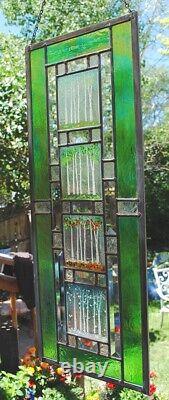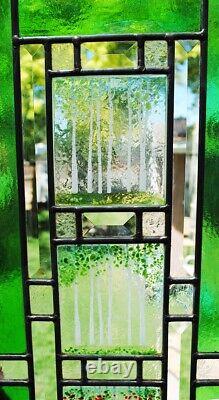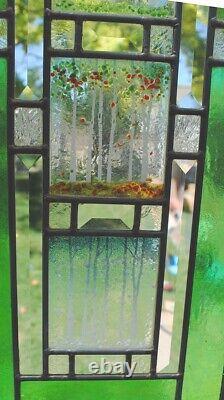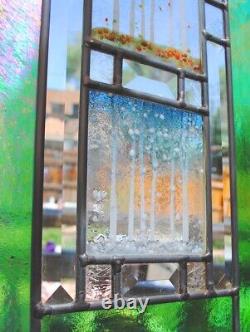 Linda just created this new original design. Each panel of the four seasons is kiln fired multiple times to create. Spring has the aspen forest with iridized light colored spring leaves. Summer has a combination of darker fuller leaves in the canopy. Fall has multi-color fall leaves and fallen leaves on the foreground.
Winter has falling snow, iridized snow and a sparkle blue sky. The four season panels are surrounded by beveled glass and iridized green. This design can also be custom made horizontal or with a different color border. Window has a sturdy zinc frame and can be hung easily. Hooks are included, chain not included.
I designed this window specifically to create a certain mood. It may stir something different in each viewer. I hope it touches you.
This is one of my favorite designs, each time I make one the result is different and unique because the glass has a life of its own. This panel is built with lead came technique with a sturdy zinc frame and then buffed and polished with glass wax. This window has a black patina applied to the metal. The black patina adds drama to the design while speeding up the natural darkening process inherent to lead and solder. About the Artists: Robert Neely and Linda Hiatt-Neely have bachelor's degrees in fine art and have been designing stained glass gifts and windows for 23 years.
Linda received her master's degree in 2011 from Lesley University in Cambridge. Some of our clients range from Walt Disney World to New York City and Sante Fe. Feel free to contact our studio for custom work including stained glass, sand-carving, and edge-lit luminary designs.

---