Stained Glass Window Panel memorial pet ashes personalized blue turquoise green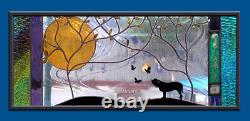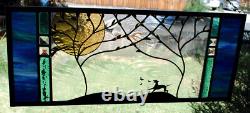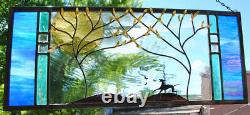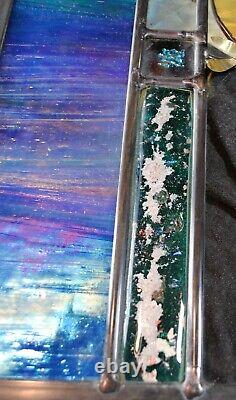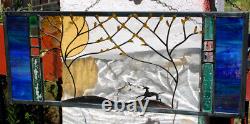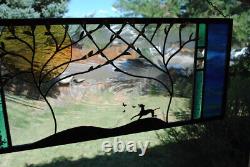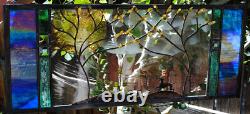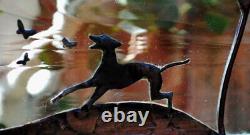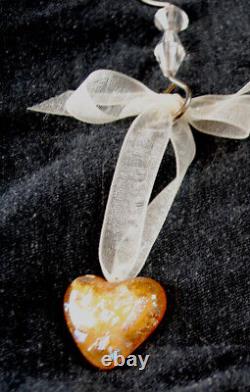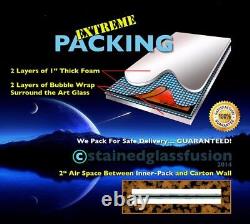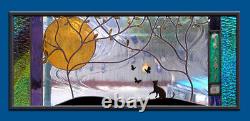 Please allow 2-3 weeks for ash fusing & completion of your custom window. Memorial with your pet ashes fused into side pieces of the window. Personalized silhouette of dog (or other pet) overlay with 2 Trees. The two trees meet and intertwine with silhouette of your pet.
The design behind this window is that each tree represents a person and their beloved pet, together they interweave because of the way we touch each others' lives. Pet's ashes are fused into the side panel combined with dichroic sparkles of glass.
You will get a sketch of your choice of dog or cat breed. Words can be added date, name or quote.
This window features a clear swirled background glass that is sandblasted with clouds. Ashes are fused into turquoise glass.
Green and blue irridized border (shown in detail pictures) and a golden sun. Brass leaves are added to create the leaves. Panel Size 10" X 22.75" approx. Send ashes USPO to be fused. The window can be left pure, or a name and special date can be sandblasted to the bottom.
You will receive a proof for your approval. About the Artists: Robert Neely and Linda Hiatt-Neely have bachelor's degrees in fine art and have been designing stained glass gifts and windows for since 1985.
Linda received her master's degree in 2011 from Lesley University. We use specialty foam, bubble wrap and recycled packing cushion using recycled newspaper end rolls. Feel free to contact our studio for custom work including stained glass, sand-carving, and edge-lit luminary designs.

---