Stained Glass Window Panel Two Intertwined Trees anniversary wedding gold peach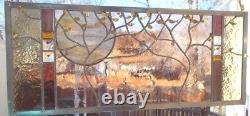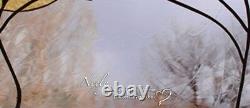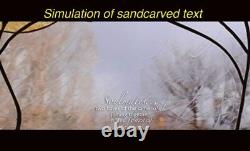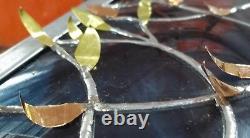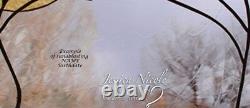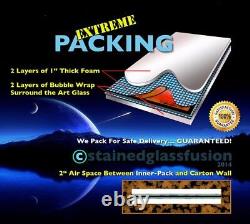 The two trees meet and intertwine. The design behind this window is that each tree represents a person, together they interweave because of the way we touch each others' lives. These two flowing trees have been created for wedding, anniversary gifts, birth of a child, any occasion. This window features subtle colors, a champagne background glass with a gold, bronze and purple border.
Brass leaves are added to create the leaves. The pink champagne glass is made from gold, therefore the price of the glass has doubled. Metals (solder, foil and zinc) are used to create our pieces and had a 33% price increase, therefore we are forced to raise our prices slightly.
Panel Size 9" X 21" approx. Window has a sturdy zinc frame with hooks and can be hung easily, can be hung or built in. Each client hangs windows differently so chain is not included. The window can be left pure, or a name and special date can be sandblasted to the bottom to create a unique heirloom gift. This can be done with the names of a bride and groom and a wedding date or a quote. We have had customers choose a special poem, a musical lyric to add that special meaning. You will receive a proof for your approval. About the Artists: Robert Neely and Linda Hiatt-Neely have bachelor's degrees in fine art and have been designing stained glass gifts and windows for since 1985. Linda received her master's degree in 2011 from Lesley University. We use specialty foam, bubble wrap and recycled packing cushion using recycled newspaper end rolls. Feel free to contact our studio for custom work including stained glass, sand-carving, and edge-lit luminary designs.

---