Stained Glass Window Panel Vinyard Lable Embed Wine Tasting Room Decor Autumn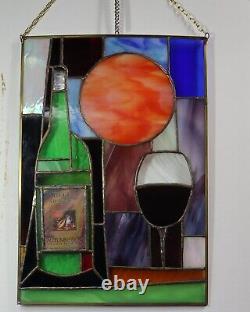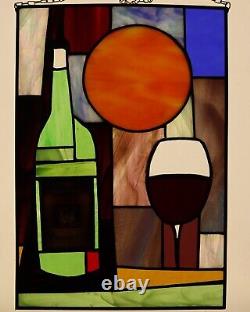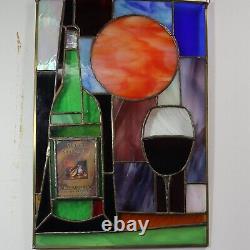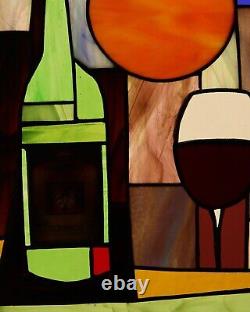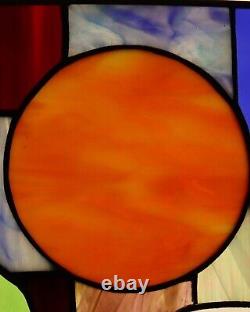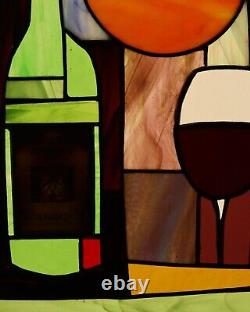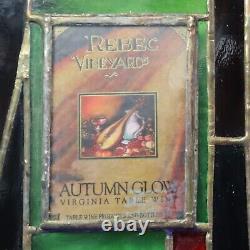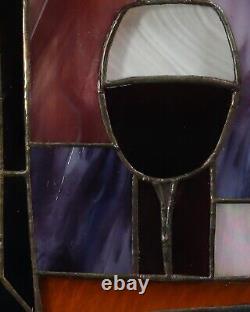 Stained Glass Panel Feature Rebec Vineyard Autumn Glow Wine Cellar Sipping Room. This panel features a two sided wine label from Rebec Vineyard in Amherst Virginia. It was a big hit at their annual Garlic and Wine Festival. The panel is a single layer of glass except for the label which is sandwiched between two layers. The glass does not protect the label from sunlight bleaching so it will fade slowly over time.
I have one in a south window for over 5 years and it is fading of course the back side is still nice a bright. The panel measures 15" x 10 1/2" and is cased in brass with a brass clock chain. Pictures show both front light and back light. No cracks or other problems ready to hang in your sipping room, man cave or wine cellar. Looks great in full sun but can look very calming in evening light as well.
This is real leaded glass and it must not come in contact with food. Always wash your hands after handing it. For inside display best in direct sunlight. Cleans with glass cleaner and lint free towel or paper towel. This item is perfect for a suction cup and we provide one with it.
This is not a toy keep away from children.

---